Sharp business owners in Singapore see opportunities where others see adversity. Yet, all too often, finance is a limiting factor, particularly for small and medium enterprises (SMEs) or new startups with big ideas but small budgets. In such cases, a business loan can make the difference between a flourishing or floundering business.
Here are some of the key benefits of taking an SME loan in Singapore:
It is a great way to supplement your finances
There are already some great financial grants in place for business owners in Singapore, such as the SMEs Go Digital programme, which is aimed at companies that use digital technologies to grow their business. However, sometimes, a business requires more help, and SME loans are great for a much-needed capital injection. This can be used to build a presence on e-commerce platforms, recruit staff, buy equipment, and meet other important business needs.
Besides, the government grants often require startups themselves to raise and commit a substantial amount of funds, which may be difficult for cash-strapped individuals, making an SME business loan a great alternative.
It has a swift approval process
Traditional business loans offered by institutions such as banks require stringent checks and extensive approval protocols. Some of these include having an operational history of at least a year and a minimum annual revenue of $300K. They also take 2-4 weeks for approval, making it unsuitable for SME owners trying to make use of a window of opportunity to seize a lucrative business opportunity or limited-period deals such as discounted rates to upgrade business infrastructure.
In contrast, taking an SME loan from a licensed moneylender in Singapore only takes 2-3 days on average, depending on the loan amount. All you'll need are some straightforward documents to speed up the process: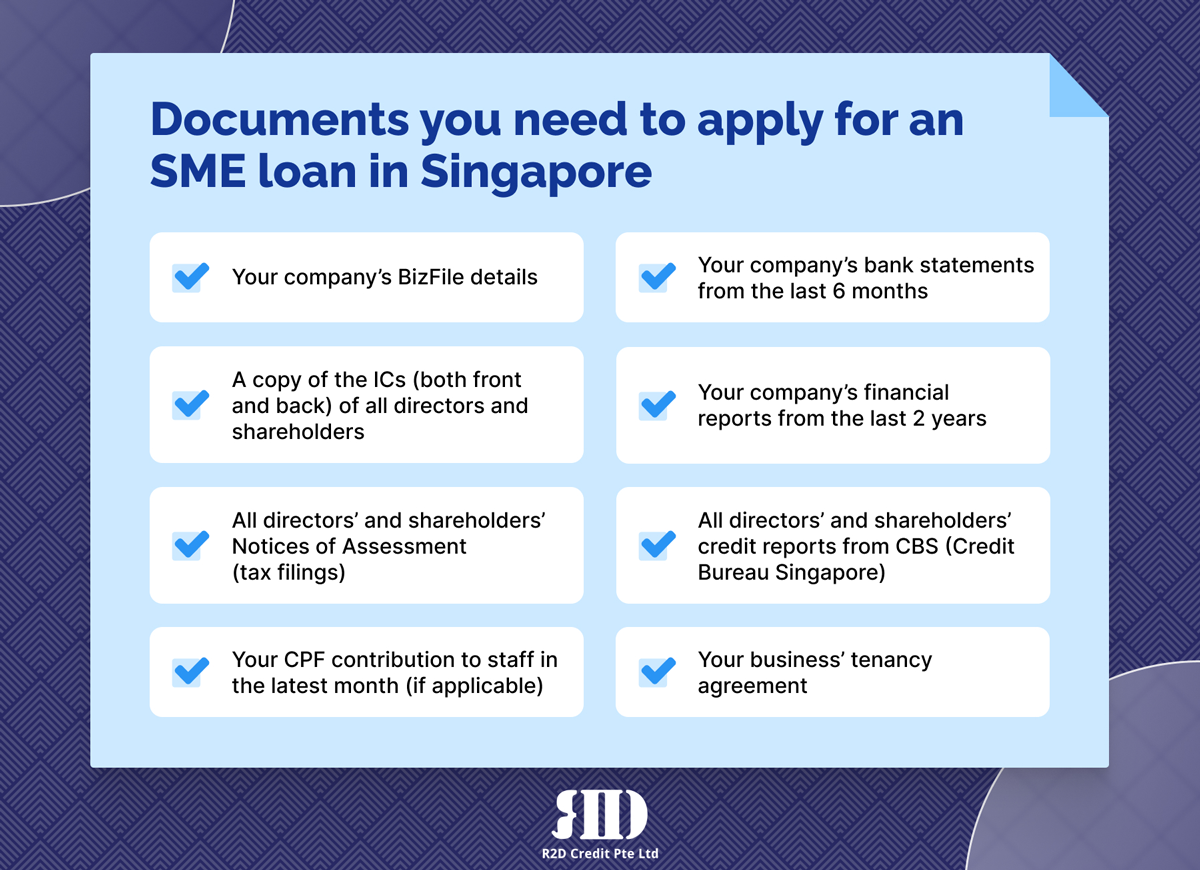 Business loans from licensed moneylenders in Singapore start at S$10,000 and go up to S$300,000. They allow startup owners to focus their efforts on networking as well as on growing and streamlining their business. Without a business loan, many of Singapore's entrepreneurs may not have the funds they need to beat the odds and succeed in the competitive business scene.
Looking to jumpstart your business today? Contact us at R2D Credit to find out more about our SME loans for Singapore-based companies.