When faced with an urgent financial emergency, a personal loan might be your best bet. As with any kind of loan, most of us would like to opt for the lowest interest rate on personal loans to minimise the burden of repaying the debt.
In this article, we'll examine what personal loans are, what you can use them for, where you can find the lowest interest rate personal loans in Singapore, and more.
What is a personal loan and what can you use it for?
Personal loans can be secured (requiring collateral) or unsecured loans and you can get them from either bank or licensed money lenders in Singapore.
There are many benefits of personal loans as you can use them for almost any personal expenses. From a downpayment for your home to funerals, and tertiary education to wedding expenses, personal loans ease your cash flow so that you can reach your life goals more quickly. You can also use it to pay off unexpected bills such as emergency medical fees or car repairs.
Where you can find the lowest interest rates for personal loans in Singapore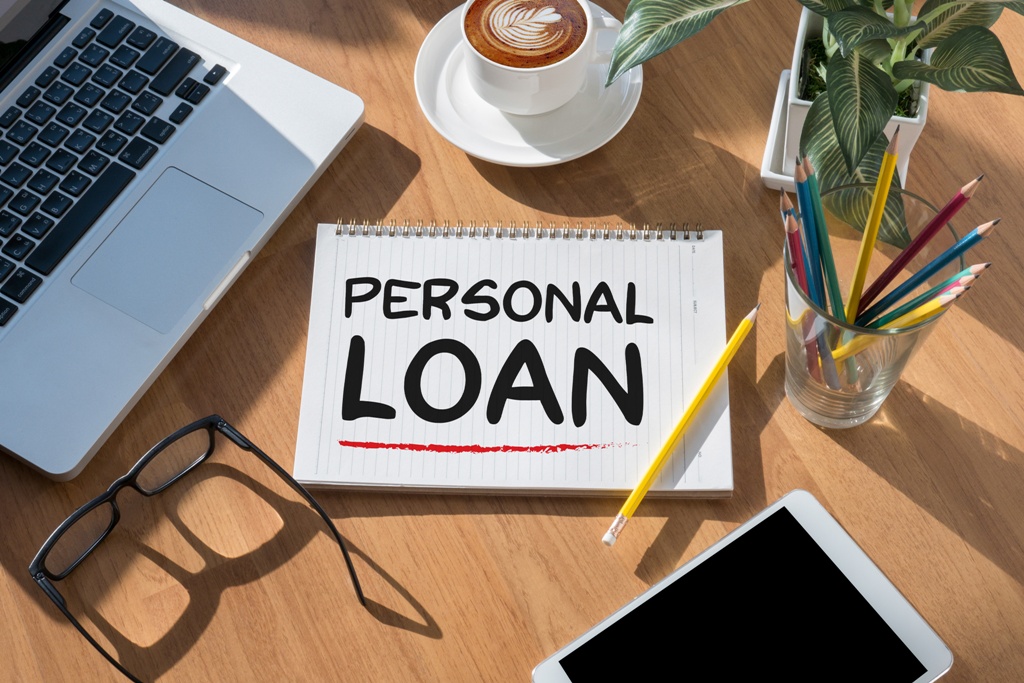 Image name and Alt: Notepad with 'Personal Loan' written on it on a desk
There are two places where you can find the lowest interest rate personal loans in Singapore – banks and licensed moneylenders.
1. Banks
Banks are amongst the most common places to get a personal loan. If you're wondering which bank has the lowest interest rate on personal loans, look no further. Some banks, like HSBC, DBS, OCBC, and UOB, offer personal loans with interest rates starting from 3.4% per annum. Some banks might even offer 0% interest rates, but these often come with a catch – they involve high processing fees and other charges, so their effective interest rates (EIR), which include processing and administrative fees, are actually much higher than their advertised interest rates.
In a nutshell, always look at the EIR when borrowing from banks as that will be the more accurate interest rates you will be paying. So the lowest interest rate personal loans may not exactly be the lowest after all.
2. Licensed moneylenders
An equally reliable and competitive option for getting a personal loan is from licensed moneylenders.
While interest rates offered by licensed moneylenders are higher compared to banks (maximum of 4% per month), it must be noted that moneylenders use the reducing balance interest rate while banks use flat interest rates. While flat interest rates remain standard throughout, the reducing balance method calculates interest payments based on the outstanding principal balance. This means that over time, the overall amount paid in interest on a moneylender loan is lower.
The loan application process with moneylenders is also less stringent, as lenders are more lenient with credit checks. They will only check your borrowing records and limits with other moneylenders via the Moneylenders Credit Bureau (MLCB), but not your credit history with banks.
This is especially important for borrowers with bad credit history who cannot qualify for bank loans.
Hence, licensed moneylenders also have a faster loan approval rate. Of course, if you have a good credit score, it will boost your chances of getting your loan approved with more favourable terms, such as getting a lower interest rate.
How to find the best rates for personal loans
The easiest way to discover personal loans to suit your needs is to conduct online research and read about the pros and cons on neutral websites. For information on borrowing from banks, personal finance advice websites like MoneySmart or Seedly are good places to do a direct comparison for the most basic information such as loan tenures and interest rates. After narrowing down the options to two or three banks, you can go directly to the bank's website to read all the detailed terms and conditions.
To borrow from licensed moneylenders, you can first consult the official list of legal lenders. Given the competitive nature of the business, most lenders tend to provide similar loan terms and rates of interest, so the best way would be to consider Google reviews for ones that seem suitable to you.
Regardless of whether you decide to get a personal loan from a bank or a moneylender, it is always a good idea to get in-principle approval from the lender to confirm their rate of interest to avoid conflict or confusion down the road.
Apply for the lowest interest rate personal loans
R2D Credit offers some of the most competitive rates for personal loans with up to 12 months' installment options. We understand your needs and will process your loan applications as fast as possible so that you can get your cash within a day.