Part 1: A Helping Hand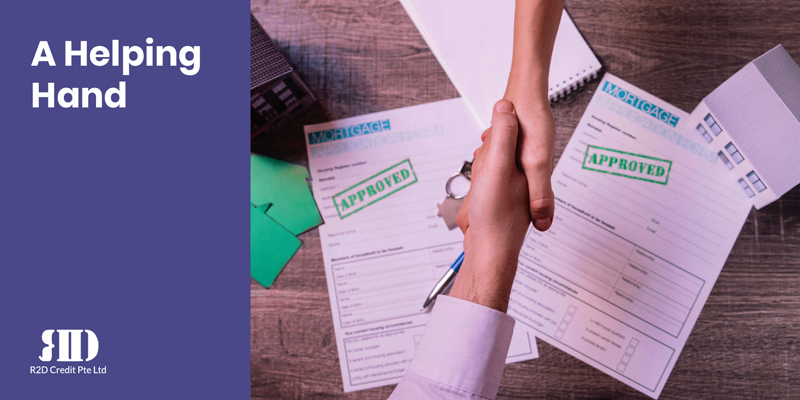 2020 has certainly been a difficult year. With Singapore's economy shrinking 13.2% in the 2nd quarter of 2020, people across various walks of life are facing cash flow concerns, from employees taking pay cuts, retrenched stuff seeking new jobs, or business owners suffering major losses in income.
While Singapore's government has granted extensive subsidies and levies on rents to ease costs of living, many still struggle with paying for various expenses. In light of this, legal moneylenders provide an essential service, supplementing borrowers' cash flow as they seek new jobs, pay off existing debts, or seizing opportunity for their business.
Two key options are available, namely bank loans and loaning from licensed moneylenders. Bank loans offer the advantage of lower interest rates and larger sums, but come at the severe expense of elaborate background checks and slow turn-around time, ranging from three days to over a week.
In contrast, legal moneylenders offer incredibly fast cash loans for Singaporeans, often within the same day of applying. With swift approvals and fuss-free loaning, read on to learn all about the various forms of loans that each serve their own useful purposes, along with how a short-term loan can be a much needed helping hand to achieve your goals.
Part 2: The Essential Loans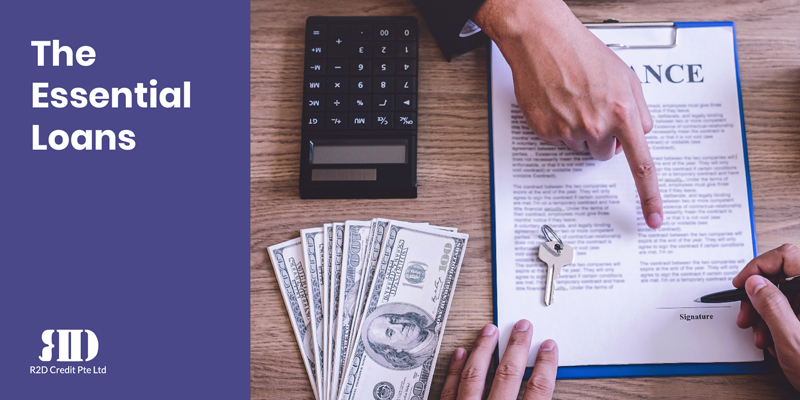 While there are many different loans, licensed moneylenders' services are often required for personal loans, along with debt consolidation loans, plus payday & monthly loans. Read on to find out more.
2.1 Personal Loan
Personal loans serve a huge variety of needs, ranging from helping the downpayment for your first car, for buying new furniture for the home, or starting up a business. Most often, they cover big-ticket purchases, unforeseen circumstances and small expenses, to be fully serviced in the short-term.
Loans are divided into two categories; secured and unsecured. Secured loans require you to pledge an asset as collateral, such as pledging your car for a car loan or your home for a mortgage. Secured loans allow for much larger sums, but if borrowers default on payment terms, the lender has the authority to seize the collateral to recuperate losses.
Unsecured loans do not require pledging any of your assets, but come with higher interest rates and stricter requirements, since the lender has no collateral to seize if the borrower defaults on payments, and has to engage in legal action to collect the owed amount.
In Singapore, the maximum interest rate that legal moneylenders are allowed to charge is 4% per month. The amount that one can loan is also fixed, but is always subject to the borrower's annual income and duration of employment at your existing job. See the table below for more information.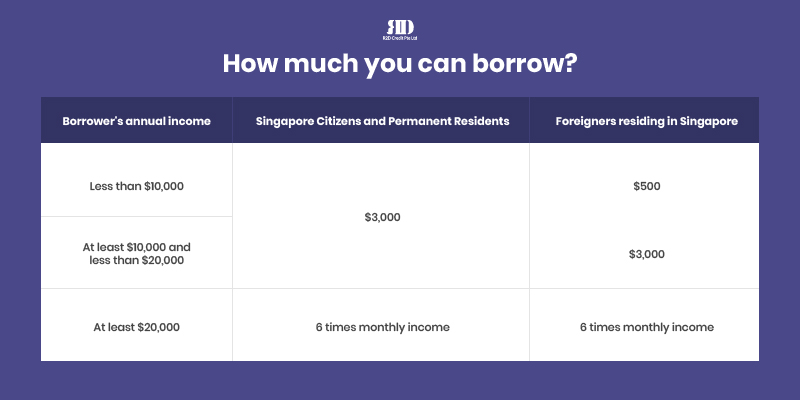 How does one go about getting a personal loan through a licensed moneylender? First, determine your own ability to fulfill the contractual terms and obligations of the loan, as you are obliged to fulfil the agreement on stipulated terms and conditions. Consider your existing income, financial status and obligations, and insist on having the terms, late payment fees and interest payment methods fully explained to you.
Getting an approved personal loan is as simple as visiting the office or contacting them online. After providing personal details and supporting documents, such as utilities bills, pay slips and income tax statements, your loan should be approved in no time.
Naturally, borrowers seek the cheapest personal loans in Singapore. But beyond low interest rates, there are other things to consider when picking a licensed moneylender. Look for those who offer credible advice, a fast and efficient approval of your loan, as well as a strong reputation and credibility. Other things to note are the option for flexible payment plans, as well as whether the moneylender's services best fit your specific needs.
2.2 Debt Consolidation Loan
A debt consolidation loan is a repayment scheme that helps Singaporeans consolidate various unsecured loans into a single loan at lower interest rates. It is an essential choice if a borrower faces multiple high-interest loans, greatly lowering the pressure for making monthly payments, where the prevailing high interest rates makes the borrower pay far more than their original amount owed.
The most common scenario is when borrowers face high interest rates from racking up multiple credit card debts, and struggle to pay off their monthly payments. Without a debt consolidation loan, borrowers face payments of varying interests, amounts and dates due, making it difficult to track and service, especially as they seek to come up with more funds.
Debt consolidation loans are treated as if the borrower made a single, lower interest loan to the creditor, allowing the consolidator to take care of the minutiae of payments to each respective loan. It is invaluable for getting out of the cycle of credit card debt, as well as managing multiple high-interest loans as well. Here's a hypothetical example for better understanding: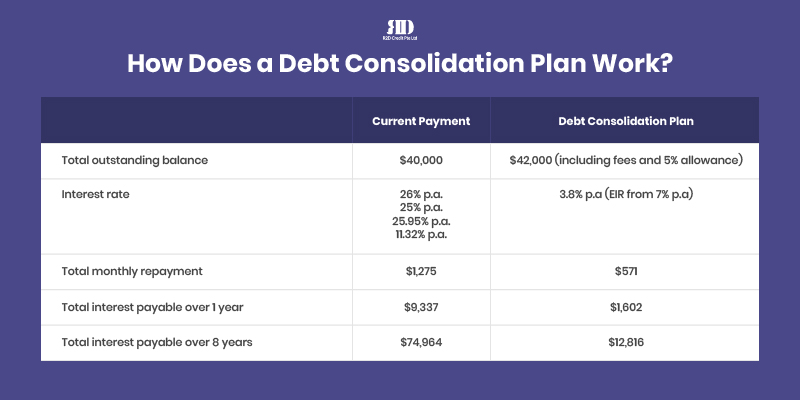 Banks have more stringent criteria, such as requiring an income of between $20,000 and $100,000, as well as having unsecured debt worth at least 12 months' salary, along with being a Singaporean or PR. In light of this, a licensed moneylender is a more accessible option.
A debt consolidation loan does not free you from your existing debt, but spreads it out over a longer period, with a less punishing interest rate. They work best for long-term payments that require at least a year or longer to fully pay back.
Ask your licensed moneylender for a breakdown of fees, interest rates, and the terms and conditions before committing. Many websites also offer a calculator to help you calculate how much your loan can save you as well.
2.3 Payday & Monthly Loan
It's not great when we are hit by sudden, unexpectedly high expenses. For people whose incomes are barely enough to cover monthly bills and payments, an unplanned expense may cause them to start lagging behind in other payments, leading to a cycle of constantly having insufficient money to settle their bills.
In such scenarios, payday loan services bring a much-needed relief. They come in two forms, payday loans and monthly loans. Both of these loans are short-term loans, with payday loans only lasting up to a month, and monthly loans being a longer and staggered-out arrangement of the payday loan.
A payday loan brings your 'payday' forward by a few days or weeks. This allows you to pay off emergency expenses, allowing you to fully repay the loan when your salary comes in. The duration of the loan starts from the day you receive the principal in cash, and is expected to be fully repaid exactly 1 month later, with additional interest.
A monthly loan operates on a similar principle, except that instead of exactly a month in duration, it offers a lot more flexibility, with up to 8 months' duration to repay the loan. The payment is equally spread out over the months that the loan is good for. For example, if a borrower were to loan $1000 over 4 months, they would be expected to pay $250 a month, plus additional interest.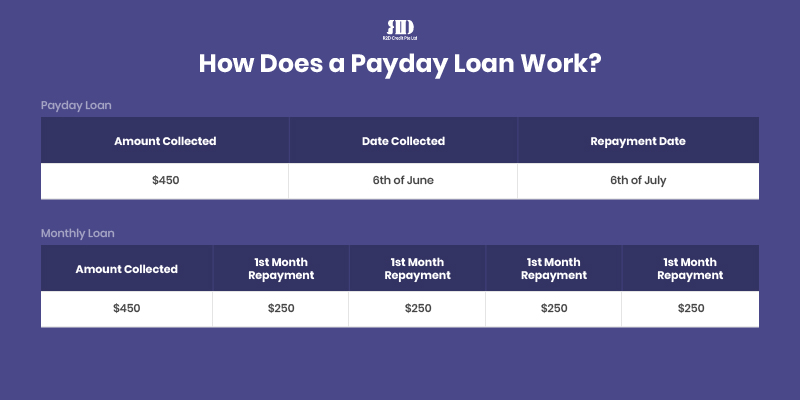 Both payday loan services and monthly loans are quickly approved and have a simple repayment scheme, and are best for emergency expenses. That said, payday loans' 1-month maximum duration makes it useful for emergencies, while monthly loans can be used for longer-term unexpected expenses, such as paying for bills while a retrenched family member seeks new employment.
2.4 Business Loans
In times of adversity, there is always opportunity. Singapore's SMEs have generated 50% of our growth across the years, and this season has hit them particularly hard, with many SMEs being forced to close, or conversely lacking the funds to expand in this period.
Many young entrepreneurs dream of running their own SME business, but a large majority lack capital and funds, and find it hard to receive credit from banks due to their youth and just embarking upon their career. They often have to resort to asking friends or family members for funds, making it a tedious and exasperating affair.
Business loans help these young entrepreneurs start a new business venture. In addition, they also act as loans for Singapore SME owners who seek to expand their business' capabilities, be it investing into more digital infrastructure or furnishing a new retail outlet.
Traditionally, banks have stringent criteria to approve business loans, requiring exhaustive checks for financial and bank statements, GST declarations, credit score and company records, often requiring statements that go back multiple years as well. On top of that, they often take up to 2 weeks or longer to process, given the large amount of paperwork.
Licensed moneylenders provide a convenient and easier alternative to seeking funds for business. Business loans are approved within 5 to 7 days instead of banks' 2 weeks' period, as well as being able to lend from $10,000 to $300,000 in a single loan. In addition, moneylenders will scrutinise your documents much less extensively, greatly increasing the chances of your business loan being successfully approved.
How do you go about getting a SME loan for your Singapore-based company? Just like applying for a business loan at a bank, you will require various documents as follows: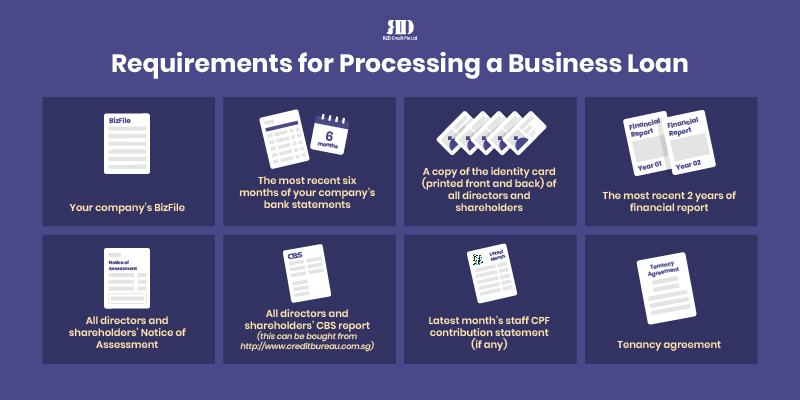 Once you have prepared these documents, visit your licensed moneylender's office to fill up a loan application form. You will discuss the amount to be loaned, as well as the repayment method. Once that is done, wait till the moneylender approves your loan, before arranging a time to come down in person and collect the full loaned sum.
Seize the initiative today and visit our website to arrange for a business loan, and you'll be one step closer to attaining your business dreams.
Part 3: Other Types of Loans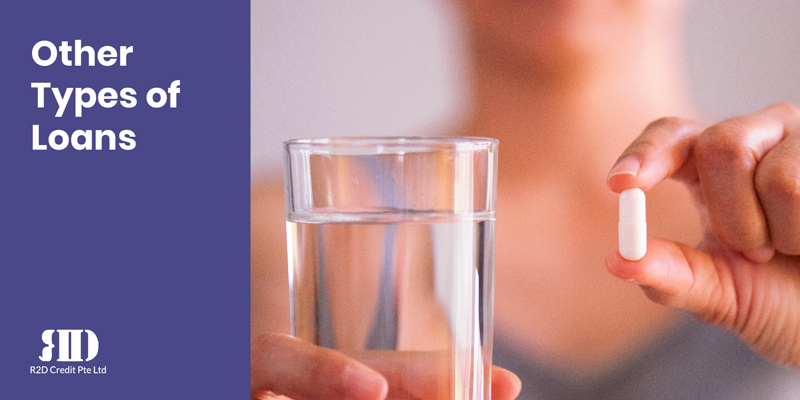 Besides the various types of loans mentioned above, there are other types of loans for people across different walks of life, and that licensed moneylenders can help out. Here's more about some of these loans.
3.1 Grab/Gojek Loan
The ride-sharing and transport industry has grown rapidly in popularity across these years, and even more so with the incredible demand for both package and food deliveries during this season, as people stay indoors and work from home. With many jobs being lost, more people are turning to earning a living as Grab & Gojek drivers, delivering passengers and packages. However, it can be an expensive affair with high starting costs, from car rental and COE prices, to unforeseen repair and hospital costs.
A Grab loan is designed to help Singaporean drivers out. With low interest rates and flexible repayment options, they are great for helping drivers have peace of mind as they take to the road. It helps newcomers secure capital for renting or purchasing a car, jump-starting their additional income.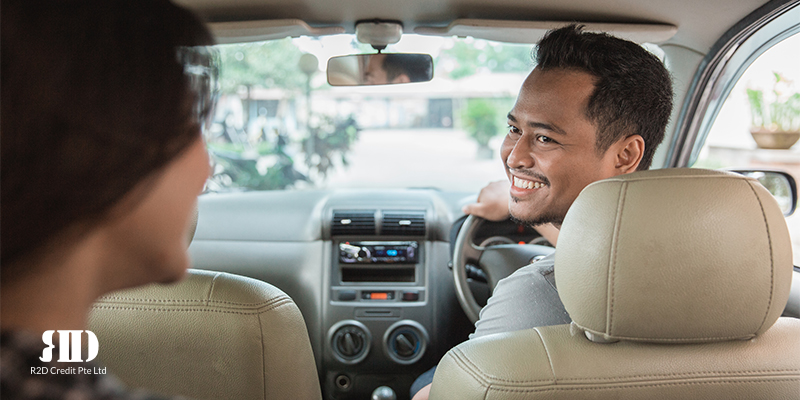 As an unsecured loan, a Grab loan from licensed moneylenders can prove invaluable, such as paying for both repair and hospital bills upfront in the event of an unfortunate accident, while waiting for insurance claims to process and pay out. This prevents the significant costs incurred from negatively affecting one's cash flow and livelihood, or impacting one's primary job and salary.
To be eligible for a Grab/Gojek loan, the borrower must be either Singaporean or a PR, possess a vocational driving license, and have other supporting documents such as their NRIC, proof of latest billing, car rental agreement (if applicable) and income payslips. Loan approval can be as fast as the same day of application, allowing for a hassle-free journey towards greater financial freedom.
3.2 Wedding Loan
As the global health situation lifts and larger groups are allowed to gather, many couples are planning ahead and sparing no expenses for their weddings. Be it renting their outfits and wedding space, or planning for their honeymoon, weddings definitely rack up huge expenses.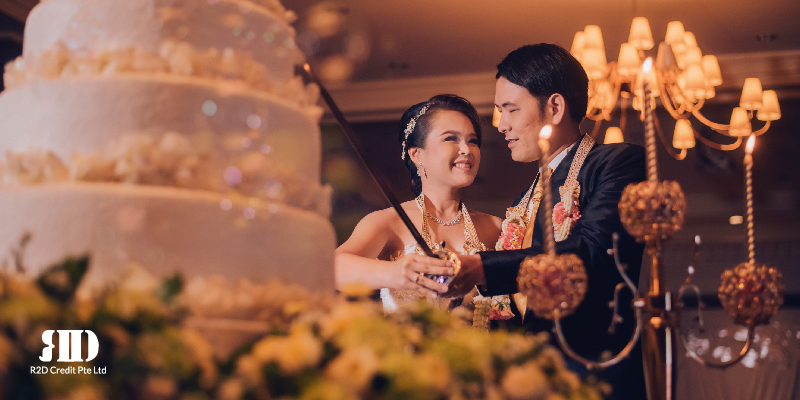 With the average wedding costing $28,000 or more, the lack of finances for many young couples just starting their careers often means delaying their wedding plans for years.  In turn, this delays other plans, such as moving into their BTO flat and having children. In light of this, wedding loans from licensed moneylenders are a great option to circumvent the prolonged delay.
With quick approval and with fast cash loans, many legal moneylenders in Singapore are able to help couples attain the wedding of their dreams. In addition, wedding loans are often at much more competitive rates compared to credit card interest rates, making it a superior choice instead of paying high interest rates over a prolonged period, risking the likelihood of paying far higher interest in the long run.
Like other loans from licensed moneylenders, you will need to provide various personal details, your financial records, payslips and credit score, particularly if the amount you plan to loan is a large sum. In addition, it's important to discuss with your spouse-to-be and arrive at a combined agreement of how to split the monthly payments, as you would not want financial matters to impact your wedding day and your new life as newlyweds.
3.3 Renovation Loan
On top of wedding expenses, young couples also have to set aside sizeable funds for renovating their new flat. With an average cost of $53,000 for renovating a mid-sized HDB flat, renovation doesn't come cheap too, especially if you go for aesthetics and higher-quality options. Here's where renovation loans come in – allowing couples to not just move into their dream home ahead of schedule, but to furnish it to their desires as well.
Renovation loans from licensed moneylenders aren't just for young Singaporean couples too, but also for families upgrading into a new home, such as parents who are upgrading to a condominium apartment. Alternatively, families may take out a renovation loan to modernise a property for rental purposes or for sale.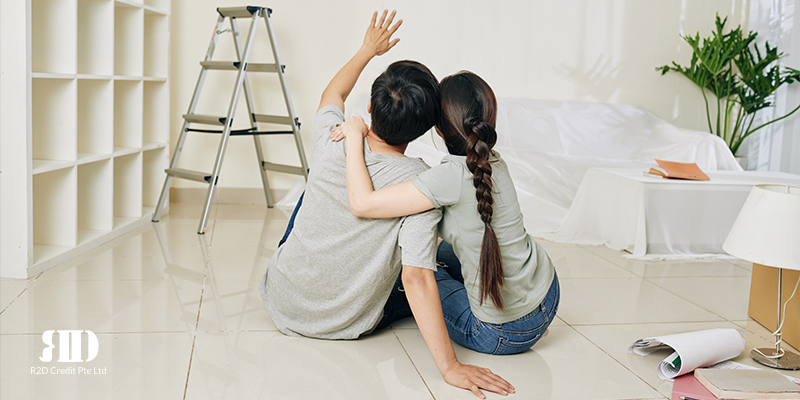 The scope of renovation loans cover electrical and wiring, carpentry work, renovating bathrooms and kitchens, painting and tiling of floors and walls, and external improvements for owners of private homes.
The criteria for getting a renovation loan with a legal moneylender is that the applicant has to be Singaporean/PR, the owner of the renovated property, and that one's existing financial records are within the threshold of the loan. With a reputable moneylender, you can expect fast cash loans, letting you dedicate your energy to planning your renovations.
3.4 Medical Loan
Health is the greatest gift one can have, and many Singaporeans are well aware of it.
While most Singaporeans have proper medical coverage through MediSave, MediShield, and medical insurance, there are often areas where it is not as comprehensive, or when emergency medical bills arise that cannot be quickly claimed from insurance. In other circumstances, expensive surgery costs are not fully covered, leading to runaway costs that can deplete savings rapidly and lead to rising debts.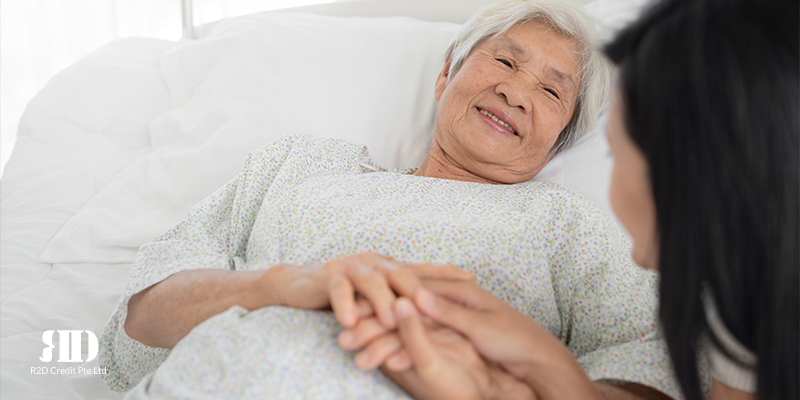 With recent changes to health insurance coverage, more conditions are also being excluded from full coverage, resulting in greater medical bills incurred by Singaporeans. A medical loan covers Singaporeans' immediate medical payments, acting as a stopgap to help them pay their bills. It is especially valuable as some medical conditions can incapacitate one from earning their monthly salary, leading to less available funds to pay for their condition.
Medical loans are offered by licensed moneylenders at low interest rates and with a fast turn-around time, often within the same day as the application itself. This is invaluable for emergencies, such as for unforeseen circumstances like heart attacks, sudden collapsing and seizures. For longer term costs, such as surgeries and treating chronic illnesses, medical loans can also provide Singaporeans the financial support to tide through a longer period, helping them rest easy knowing that they themselves and their loved ones can still seek the treatment they need.
3.5 Bridging Loan
A bridging loan is a short-term loan, often up to 6 months, aimed at bridging the monetary gap for homeowners in the midst of selling their existing property and buying a new one. Bridging loans cover approximately 15 to 20 percent of your new home's price, helping you raise capital and clear various payments for your new property, such as down payment and renovation costs, while waiting to receive the full proceeds from selling your existing property.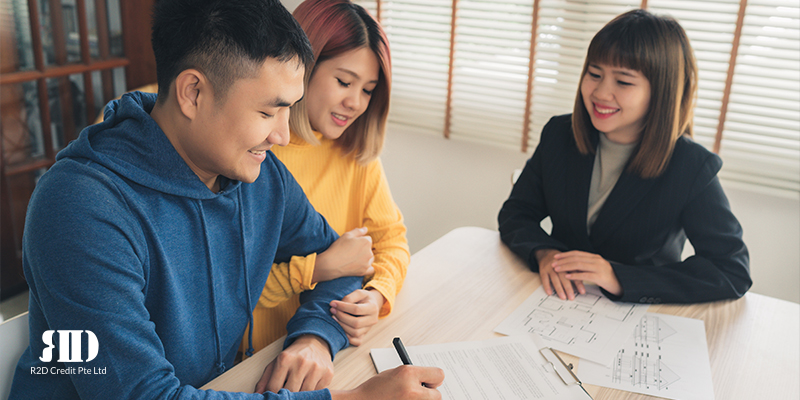 Bridging loans from legal moneylenders offer much quicker approval and receiving the principal amount as copmared to banks, with their longer procedure and duration. This is useful for homeowners who need to make a quick, large-sum deposit or payment for their new property to secure its purchase; or for those who may not get bank approval due to other existing loans.
3.6 Study Loan
While education in Singapore is heavily subsidised, tertiary education can still rack up significant fees, especially for young Singaporeans from lower-income households who have to fully pay for their education themselves. Getting extra funds to pay for one's education can be difficult, especially if one does not meet the various grant scheme requirements in Singapore.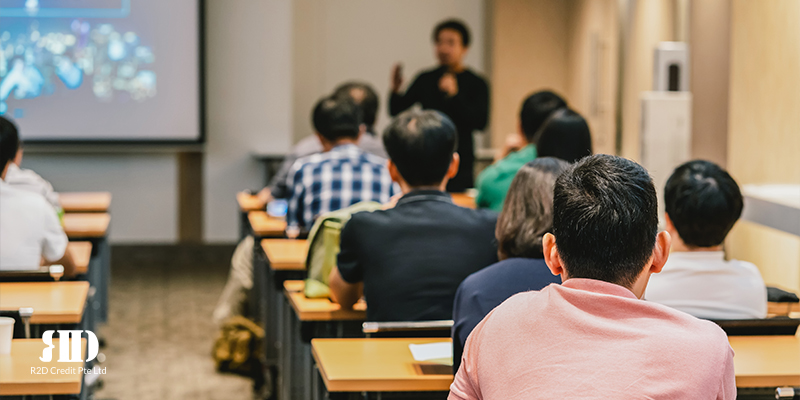 A study loan from licensed moneylenders offers low interest rates, which are invaluable for students as the loan repayment begins after they graduate. In addition, as unsecured loans, no collateral is required, and the loan remains interest-free as long as the applicant is studying, greatly easing the concerns of working during their free time to pay off the loan amidst schooling. A guarantor will be required on behalf of the student to secure the loan, with the criteria being that the guarantor must not be declared bankrupt.
Conclusion
Loans are a great way to achieve both your short-term and long-term goals, allowing large sums of cash in advance to fulfill your dreams, with affordable and low-cost interest rates. But above all, it's essential for you to understand the nature of the contact you are entering into with licensed moneylenders, as you are still legally obliged to fulfill the full terms of the contract, and to repay the loan on time and in full.
Do consider your own financial situation, which type of loan best services your immediate needs, as well as the optimal duration of the loan, the amount you require, and the interest rate you are willing to accept, before approaching one of Singapore's legal moneylenders for a fash cash loan.
Visit R2D Credit today to learn more about achieving your goals.