The word 'moneylender' can have quite a negative connotation in Singapore because it brings to mind images of emotional and physical harassment. However, these incidents are the hallmarks of illegal loan sharks, and not licensed moneylenders.
To do away with such misinformation so people can find the right channels when in need of urgent loans, we debunk 5 myths about licensed moneylenders.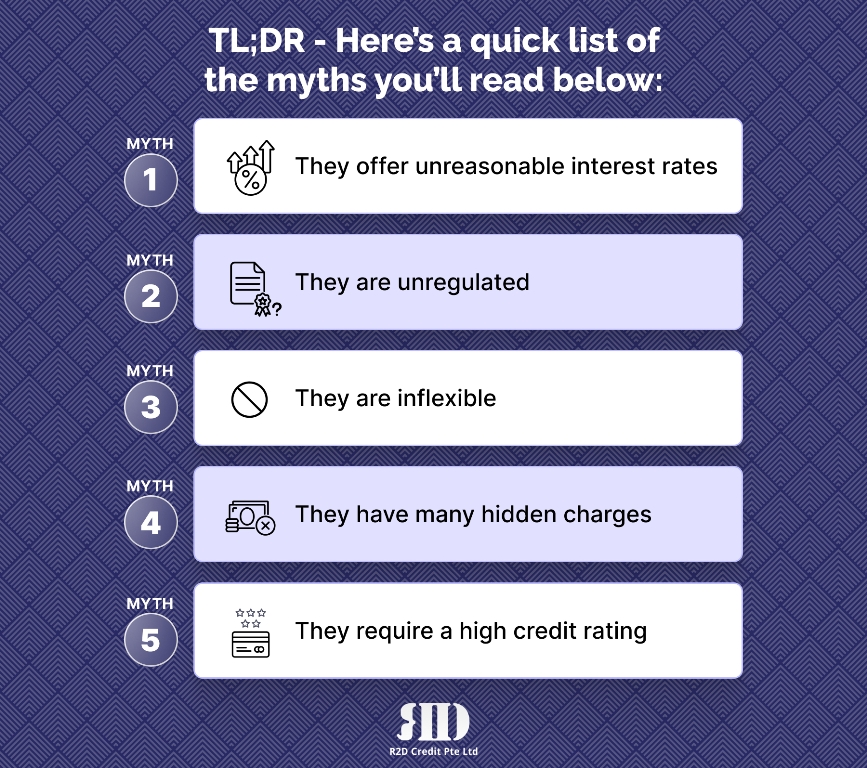 Myth 1: They offer unreasonable interest rates
Many people avoid moneylenders due to the perception of unreasonably high interest rates. In reality, since 2015, Singapore's law dictates that licensed moneylenders can only charge a maximum of 4% interest rate per month, preventing borrowers from being caught in a cycle of unreasonable interest payments.
The market also ensures that moneylenders compete against each other to offer competitive prices, allowing borrowers to benefit from faster approval and more lenient repayment terms. On top of that, the internet has made it easy to compare between various legal moneylenders, letting you pick the one that offers you the best rates for your specific loan needs.
Myth 2: They are unregulated
Contrary to popular belief, Singapore has stringent regulations on loan services. Every legal moneylender has to apply for a license, go through various checks, and be certified for good conduct before commencing operations. Moneylenders are also expected to maintain their reputation and honesty before they can renew their license.
With the government providing an official listing of licensed moneylenders, one way to get peace of mind is to ensure that your chosen moneylender is on that list before taking a loan from them.
Myth 3: They are inflexible
Moneylenders don't just offer one-size-fits-all monetary loans at a fixed interest rate. In actual fact, just like banks, licensed moneylenders offer a wide variety of loans at different rates and repayment schemes for their clients.
From payday loans and wedding loans to student loans, it's easy to find a loan for each person's unique needs. Licensed moneylenders also offer various payment plans and affordable interest rates.
Myth 4: They have many hidden charges
Another concern prospective borrowers have is that moneylenders may not be transparent, and they may end up incurring many additional costs on top of the interest, which can potentially hurt borrowers in the long-run.
However, if you're late in your repayment, by law, licensed moneylenders in Singapore can only charge three types of fees:
A maximum of $60 as a late penalty fee for each month's late repayment.
Administrative fees that are capped at 10% of the loan's principal.
Court-ordered legal fees for legal action to recover a defaulted loan.
Do check that your moneylender does not go beyond these and charge you unfair rates and fees.
Myth 5: They require a good credit score
While banks demand exhaustive background checks and insist on a solid credit rating before approving a loan, licensed moneylenders are far more relaxed in this area, being willing to loan to almost any individual who meets their requirements.
In fact, for licensed moneylenders, the borrower's ability to repay the loan is most important. This is why, even those with bad credit history, who may be rejected for a bank loan, are likely to get a loan approved by a licensed moneylender. All that's required are your personal details and proof of income. With loans often being approved on the same day as the application, they provide swift funds for your various needs.
If you're considering taking out a loan, whether it's a personal or business one, R2D Credit is here to help. Get in touch with us today to learn more about what our loans can do for you.